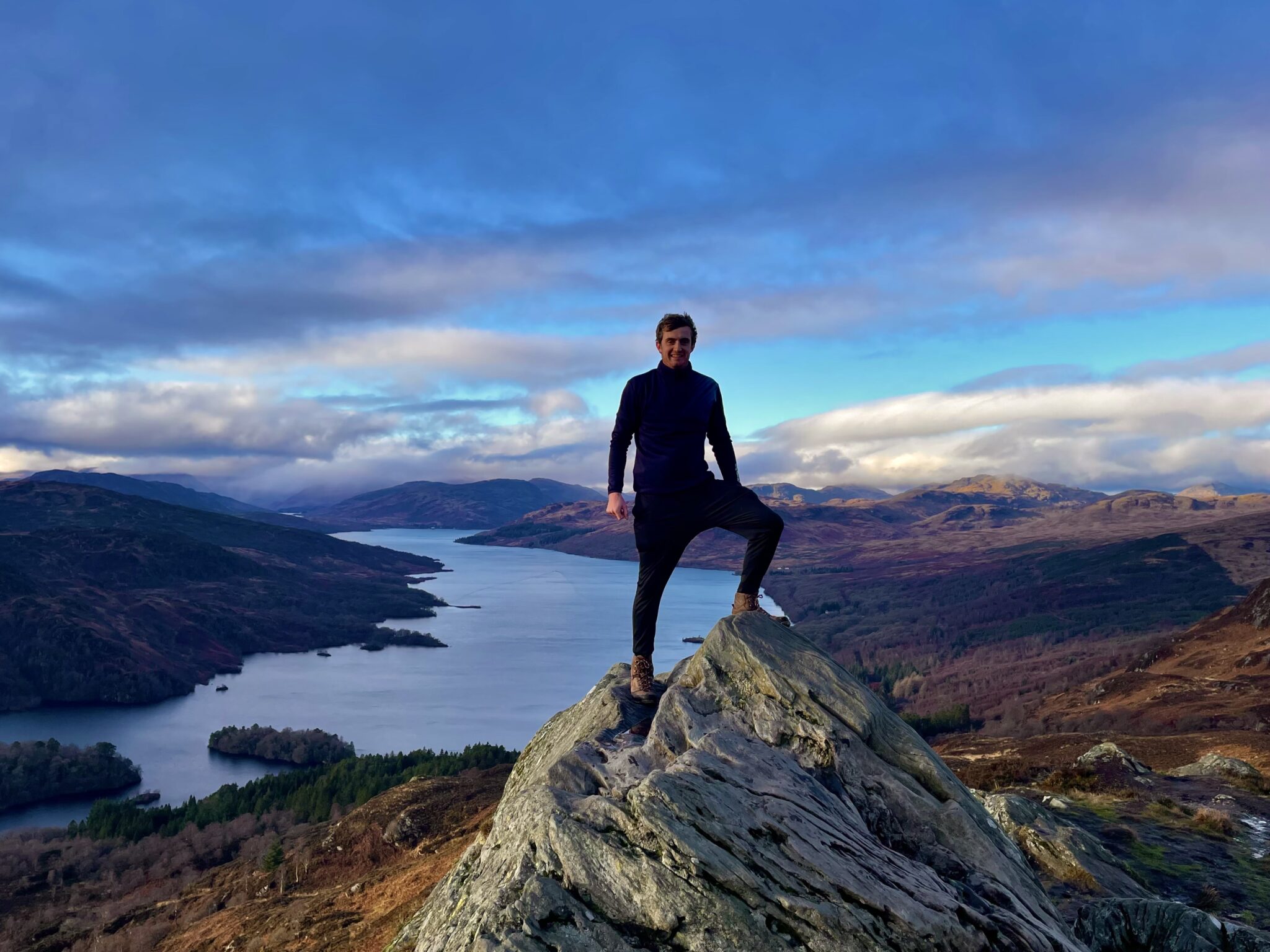 Experience an action-packed one-day tour from Edinburgh to the Scottish Highlands, where the wonders of hiking trails, history and historic castles await. This jam-packed tour promises a perfect blend of natural beauty and cultural exploration. Let our knowledgeable guide lead the way as you embark on an adventure you'll cherish for a lifetime. Featuring the following highlands tour highlights:
Ben A'an: The Short Pointed Peak
Kick-start your day with a climb up Ben A'an, a steep but incredibly rewarding peak offering views over the southern Highlands and Loch Katrine. As you hike through this iconic landscape, immerse yourself in the tales of Rob Roy. At the summit take a moment to catch your breath and capture the beauty that surrounds it. Keeping our eyes peeled for a golden eagle.
Kilchurn Castle: Ancestral home of the Campbell's of Glenorchy
This ruined Scottish castle was a historic stronghold which has a rich and intriguing heritage. Wander through the atmospheric ruins, imagining the lives of ancient clans and noble families. You will learn captivating stories of battles, legends, and the castle's significant role in Scottish history.
Oban: Gateway to the Isles
Experience the coastal allure of the picturesque town, be captivated by its bustling harbor, charming waterfront, and vibrant atmosphere. Sample delicious seafood, visit local shops including the famous Oban distillery and soak up the maritime ambiance that makes Oban a true gem of the Scottish coast.
Glencoe: Known to some as the Glen of the Weeping
Prepare to be mesmerized by Glencoe, a glacial valley renowned for its raw beauty and dramatic landscapes. Our guide will share captivating tales of the Glencoe Massacre, folklore, and the natural wonders that define this Highland gem.
Other stops include Callander, Finlarig Castle and Castle Stalker.
Price of the tour: £160 per person or £500 for private group (up to 8 people), all of which exclude breakfast and lunch in price. Want to book the tour contact me directly via [email protected] or whatsapp: +447548132617.
I did this tour on a solo trip and was very excited. The tour was really amazing. I met a lot of different people and our guide Rob was fantastic. His knowledge of historical facts, combined with his stories about Harry Potter and the ability to connect with people made it a super time !
Christina
Rob is the real deal!!! This tour was fabulous and so fun to learn not only the influence of the city for JK Rowling and Harry Potter but also the history of the city. Rob is so incredibly knowledgeable and also so personable that you'll learn a lot and have such a fun time! His jokes are hilarious and his passion is remarkable. He gave us great recommendations for the rest of our time in the city which was so appreciated. He also did a fabulous job of making us all friends in the tour that I'm lucky to have also met some great people! There is not a single thing about this tour that wasn't perfect! I'd take any of Rob's tours and I'd highly highly suggest you do too!
Kieran
Robert is a great host and we thoroughly enjoyed his Harry Potter, Haggis & Horrible Histories. Now we know where Tom Riddle is buried. We are a group 8 Chinese visiting Edinburgh for the first time. Robert was very helpful with suggestions on places we could visit. He even took us to a beautiful cherry blossom park in Edinburgh, where we took some memorable photographs. That's the highlight of our trip. I would recommend Robert's tour to anyone.
Angie