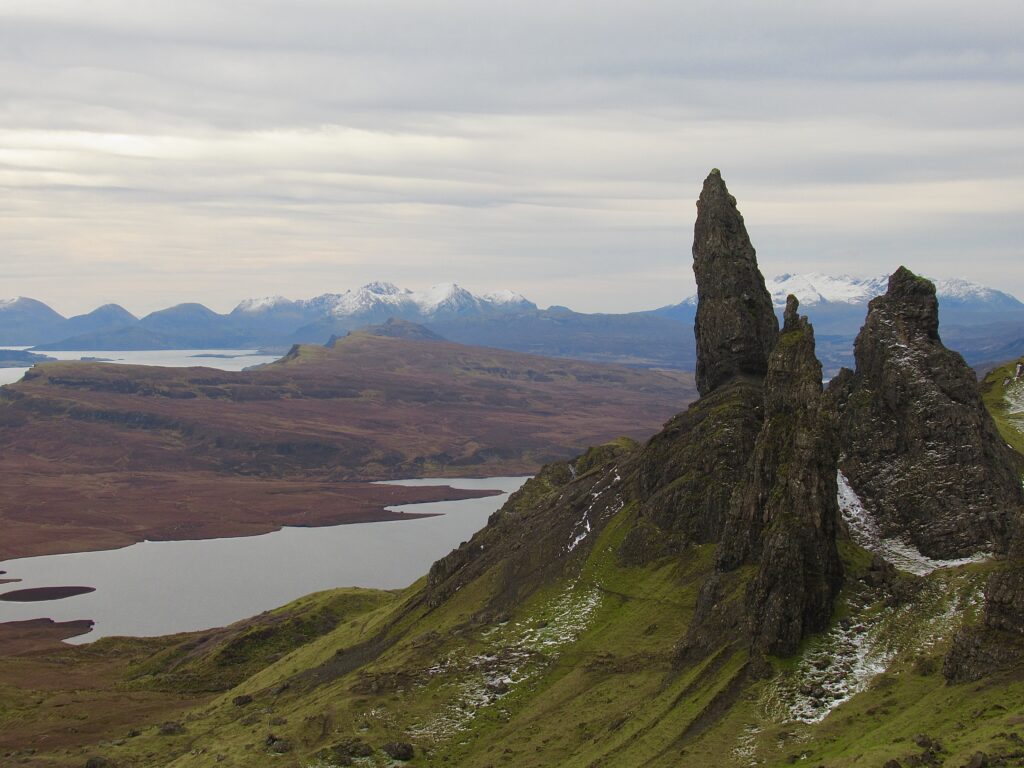 Embark on an unforgettable 4-day tour to the Isle of Skye from Edinburgh or Glasgow with a historian and wildlife expert. The island is a paradise of rugged landscapes, ancient castles, and captivating wildlife. This immersive tour promises an exhilarating blend of outdoor adventure and cultural discovery, all expertly guided for an experience that will linger in your memory forever. Get ready to be captivated by the following tour highlights:
 Hiking in the Highlands
Ben A'an: The Short Pointed Peak
Begin your expedition by conquering Ben A'an, a majestic peak that rewards your climb with sweeping vistas of the southern Highlands and the enchanting Loch Katrine. Traverse through this iconic terrain as you soak in the legends of Rob Roy and pause at the summit to capture the awe-inspiring beauty that stretches before you.
Old Man of Storr: A Geological Masterpiece
Marvel at the dramatic silhouette of the Old Man of Storr, an iconic rock formation that rises majestically from the Isle of Skye's enchanting landscapes. Hike amidst the natural wonders, feeling the ancient energy that emanates from these geological giants.
Scotland Bird Watching
Indulge in the symphony of nature as you search for some of the most sort after birds in Scotland. Keep your eyes peeled for majestic golden eagles soaring overhead on the mainland and sea eagles along the coast of Skye, creating an immersive connection with the Isle of Skye's untamed beauty. Tours between April and August we will partnership with Bella Jane Boat tours to embark on an epic trip to the Isle of Canna to see the return of the beautiful Atlantic puffins in Scotland. 
Explore the Wildlife of Scotland
As well as incredible bird life Scotland has amazing sea and wildlife. On land it is our mission as nature lovers to search for the Eurasian otter, the red squirrel and the four different types of deer in Scotland. Once we leave land and embark on the boat trip we will be looking for common and grey seal, dolphins, porpoise, minke whale and basking sharks. 
Visit Castles of Scotland
Eilean Donan Castle: Scotland's most picturesque castle
Uncover the secrets of Eilean Donan Castle, an architectural marvel standing proudly at the confluence of three lochs. Immerse yourself in the rich history of this fortress as you wander its corridors, imagining the lives of clans and nobles who once inhabited its walls. This castle resonates with stories of battles, legends, and the essence of Scottish heritage.
Dunvegan Castle: Home of Clan MacLeod
Explore Dunvegan Castle, a testament to Scotland's rich history and a sanctuary of myths and legends. Roam through its halls, learning about the tales of chieftains and their clans, as well as the enduring heritage that lives on within these ancient walls.
Other stops include Portree, Isle of Canna, Fairy Glen, Kilchurn Castle and much more.
How to Book
Price of the tour: From £900 per person or £3,000 for private group (up to 8 people). Prices include breakfast, accommodation, ferry crossings and boat trips. Excludes any optional extras like castles entrances or whisky tours. Want to book the tour contact me directly via [email protected] or whatsapp: +447548132617.
I did this tour on a solo trip and was very excited. The tour was really amazing. I met a lot of different people and our guide Rob was fantastic. His knowledge of historical facts, combined with his stories about Harry Potter and the ability to connect with people made it a super time !
Christina
Rob is the real deal!!! This tour was fabulous and so fun to learn not only the influence of the city for JK Rowling and Harry Potter but also the history of the city. Rob is so incredibly knowledgeable and also so personable that you'll learn a lot and have such a fun time! His jokes are hilarious and his passion is remarkable. He gave us great recommendations for the rest of our time in the city which was so appreciated. He also did a fabulous job of making us all friends in the tour that I'm lucky to have also met some great people! There is not a single thing about this tour that wasn't perfect! I'd take any of Rob's tours and I'd highly highly suggest you do too!
Kieran
Robert is a great host and we thoroughly enjoyed his Harry Potter, Haggis & Horrible Histories. Now we know where Tom Riddle is buried. We are a group 8 Chinese visiting Edinburgh for the first time. Robert was very helpful with suggestions on places we could visit. He even took us to a beautiful cherry blossom park in Edinburgh, where we took some memorable photographs. That's the highlight of our trip. I would recommend Robert's tour to anyone.
Angie